Looking for an oil change near Hardeeville, Bluffton, or Hilton Head Island? You need look no further than Land Rover Hilton Head. We're happy to help local drivers with oil service to keep their vehicles' engines in prime condition.
We're here to let you in on a few signs you need an oil change and help you learn how we can assist you. If you think you need an oil change, make an appointment with our service center today!
When Should You Get an Oil Change?
Signs You Need an Oil Change
Generally speaking, it's a good idea to have an oil change every six months or 6,000 miles-although luxury cars and cars with synthetic oil can often go quite a bit longer between oil changes. Pay attention to your car and you'll notice signs that it's time for a change, such as:
Black & Gritty Oil - Healthy oil should be smooth, translucent, and amber in color.
Loud Engine Noise - A result of the metal parts inside your engine grinding together.
Exhaust Smoke - A sign that oil could be leaking and burning into the exhaust area.
Also, don't forget to check your dashboard warning lights: An oil pressure, oil level, or check engine light is a good sign something is amiss.
How Our Technicians Can Help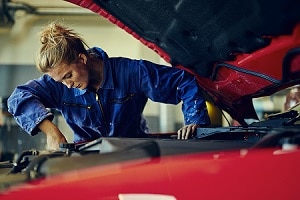 When you need an oil change, you want only the best, most qualified experts handling the job. Luckily, we staff our service center with fully trained and certified technicians who've performed oil changes on a range of makes and models. They'll make short work of your oil service.
They're happy to hook you up with the precise type of oil you're looking for, conventional or synthetic. If you want, they'll even check and top off your other fluids as well, from coolant to transmission fluid. They'll change your oil filter, too, so you can keep your engine oil fresh and clean for even longer.
Schedule an Oil Change near Me
We at Land Rover Hilton Head are thrilled that you're stopping by our website to learn more about our oil change services. Next time you need an oil change near Bluffton, Hilton Head Island, or Hardeeville, our team is more than happy to help.
Give us a call to schedule your appointment today. We look forward to working with you!